One of the most prominent events in the IT domain - DevFest Siberia 2016 was held on 19-20 November in Novosibirsk. Noveo was lucky not only to participate in such a great event, that was held in our city for the first time, but also to try a role of a partner. It was flattering and a little emotional for us, and of course we have a lot of positive impressions from participation in the conference, which we want to share!

Everything naturally began with preparations. The organizers offered us a partnership back in August. There were a lot of meetings, calls and mails and even more ideas, solutions and improvements. The hosts of the conference carried out a huge amount of work, prepared 6 conference rooms and 2 floors of the Technopark to serve the ground for the participants of the conference, invited speakers from all over Russia and other countries.
We kept up! Were thinking over the details of our display stand and choosing, something interesting and juicy which we can show to the participants. There is a great deal of projects worth being told about in Noveo, and we singled out the sleep trackers 7Hugs with integration of smart light bulbs, as well as an application for the whole family with the system tracking the air quality and humidity: the topic is interesting from the technological point of view and more than ever relevant, as the idea of a smart home represents one of the main directions of the high technologies development today. We also created a whole set of Telegram stickers for the event, printed them out as labels, and that was a kind of sensation!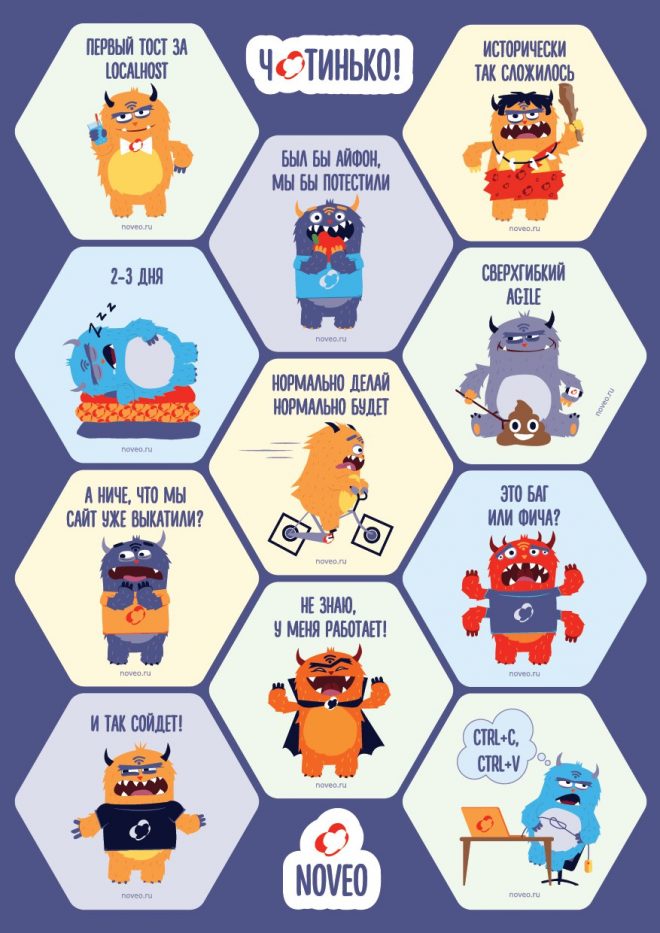 And finally the long-awaited day came! All visitors were warned of the severe Siberian frost (-32C), but our hot guys were not to be stopped ;) We were waiting for each participant with impatience and gifts - branded chocolate, colorful notebooks and pens, stickers and of course our beautiful girls' warming smiles left no one indifferent!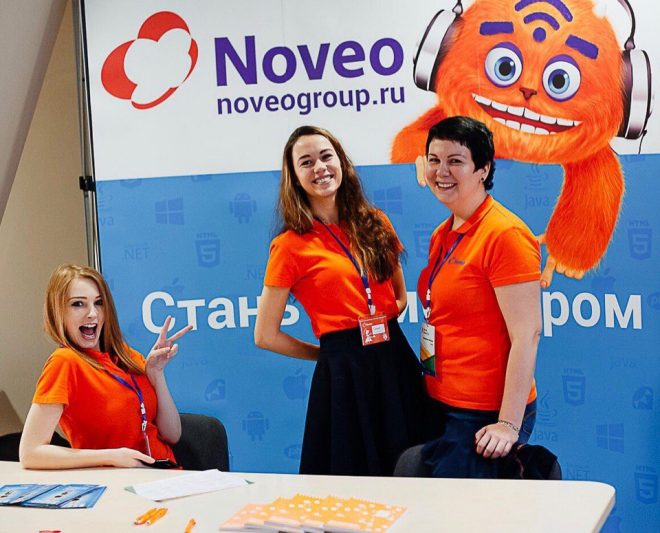 Personal thanks to our iOS-developer Semyon, who courageously withstood the onrush of the interested in our demo-stand, professionally answered all questions, explaining technical nuances of the project development, demonstrated the application's possibilities and generously let people poke in the different light bulb colours ;)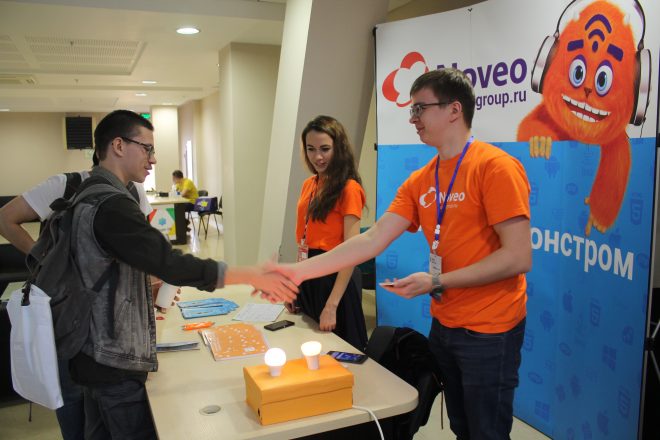 The first day of the DevFest was incredibly intensive: it seemed that during the very first hour we gave away 80% of everything we had taken with us, but we were only glad! We met a lot of our colleagues who came to listen to the presentations and built a real Noveo-team at the conference! Our special gratitude for your support and smiles =)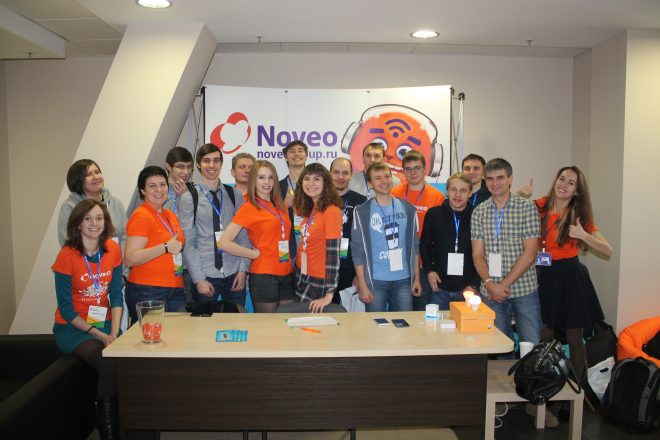 Within 2 days of the conference 42 speakers from 8 countries held their presentations, which were attended by 520 participants from 18 cities. The presentations were very different: not only  junior developers could find something useful in reports about basic notions, but also senior developers appreciated really hardcore reports, enthusiastically discussing the new knowledge during coffee-breaks. A quantity of codelabs organized in 2 conference-rooms definitely made happy those who are always into work and brought their laptops with them even to the conference.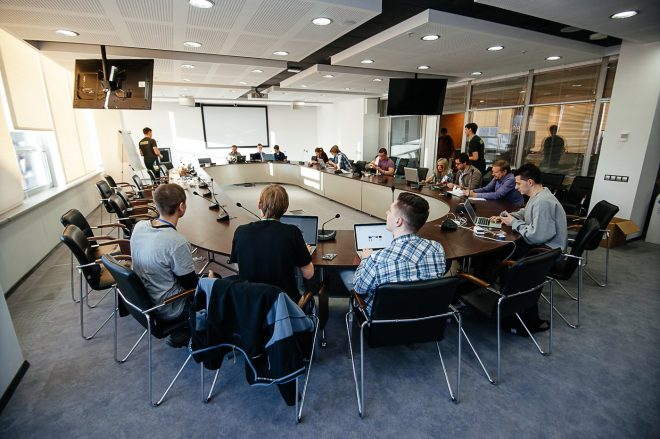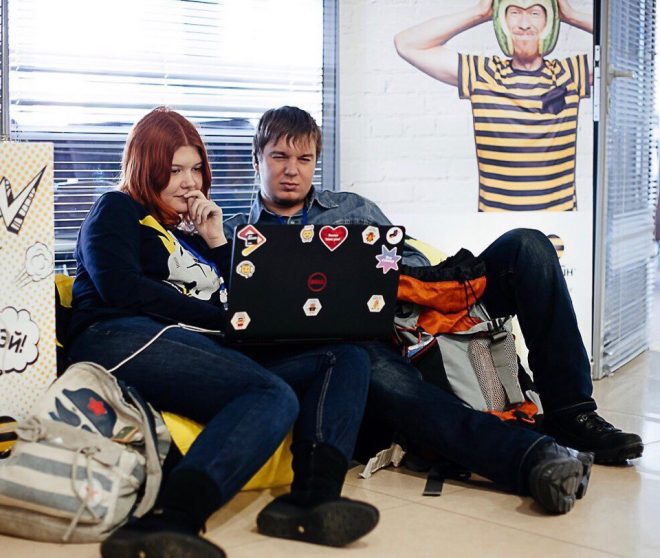 All in all, such conferences offer not only an opportunity to learn something new from the speakers, but also the get-together that happens between and after presentations. You can meet new interesting people, compare development processes in other companies, and for us it's also a great chance to attract people to our vacancies and internships! ;)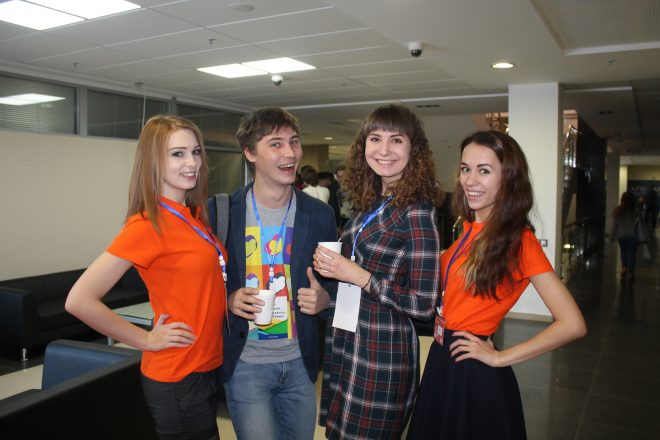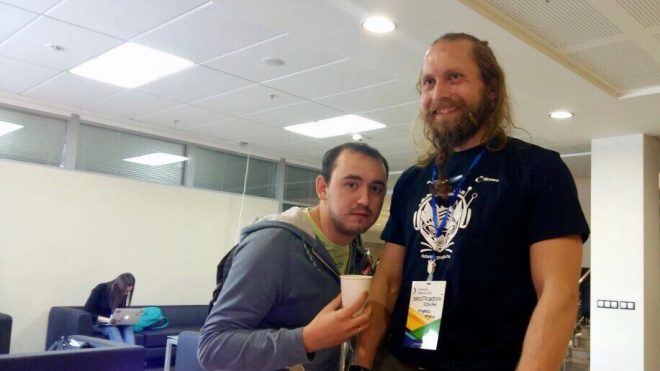 The second day was maybe not so intensive, but not less interesting. We had more opportunities to communicate with participants, lots of them recognized us and approached our stand just to talk to us. So many active, ambitious and positive guys! =) Some of them we already knew and were glad to meet them again, some of them we met for the first time. Noveo loves new acquaintances! We were glad to tell everybody who was curious not only about our product - 7hugs, but also about our company, our life, and of course our vacancies and internships. An informal meeting sure is a very convenient place to catch the company employee and learn from him, what interesting can be found in the company :)
These days were also important for us for yet another reason: our speaker Andrey made his presentation about those very 7hugs and investments in this start-up. We actively invited everyone to come and listen to the presentation, changing the light bulb colours… and gathered the whole room! :)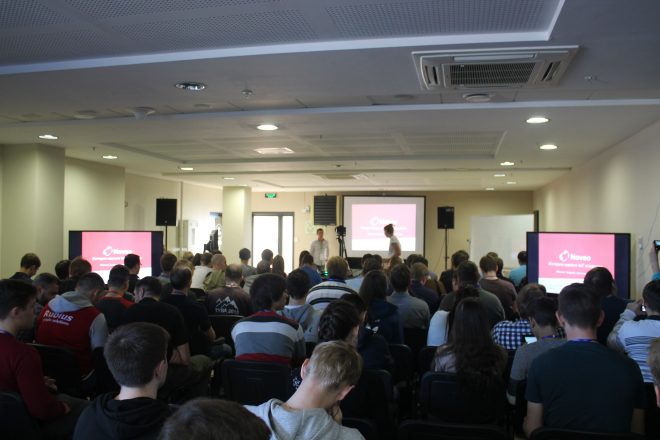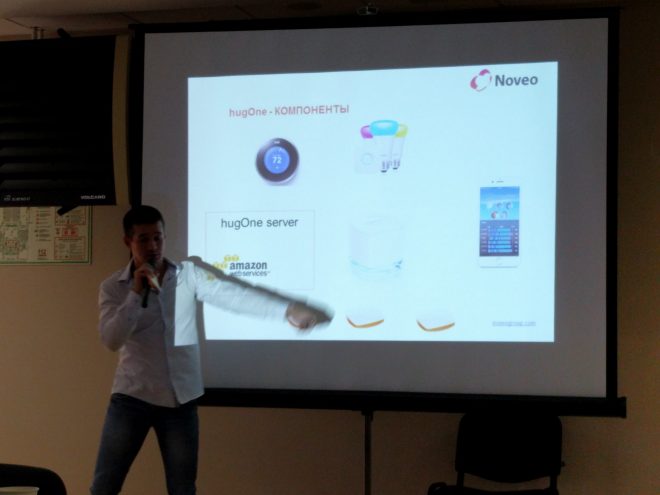 In general the participation in such a big and interesting conference added to our experience bank more practice in organising and running similar extensive events. We established a lot of interesting contacts, made friends, and maybe even found a couple of new employees! ;) Our warm thanks to everyone - to Noveo colleagues representing our stand, to Andrey telling about our start-up, to all who came to our stand and asked questions - it really makes us happy when you take interest in us! And of course many thanks to the organizers for the offered opportunity to participate and become a partner! We liked it, so don't hesitate to call us again :)