"Lights switched off? Check. Electronics unplugged? Check. Doors shut and locked? Check and che– Wait." Cue dramatic music, stopping the car right in the middle of the road and rushing back home with the speed of light, any business meeting you had that morning be damned…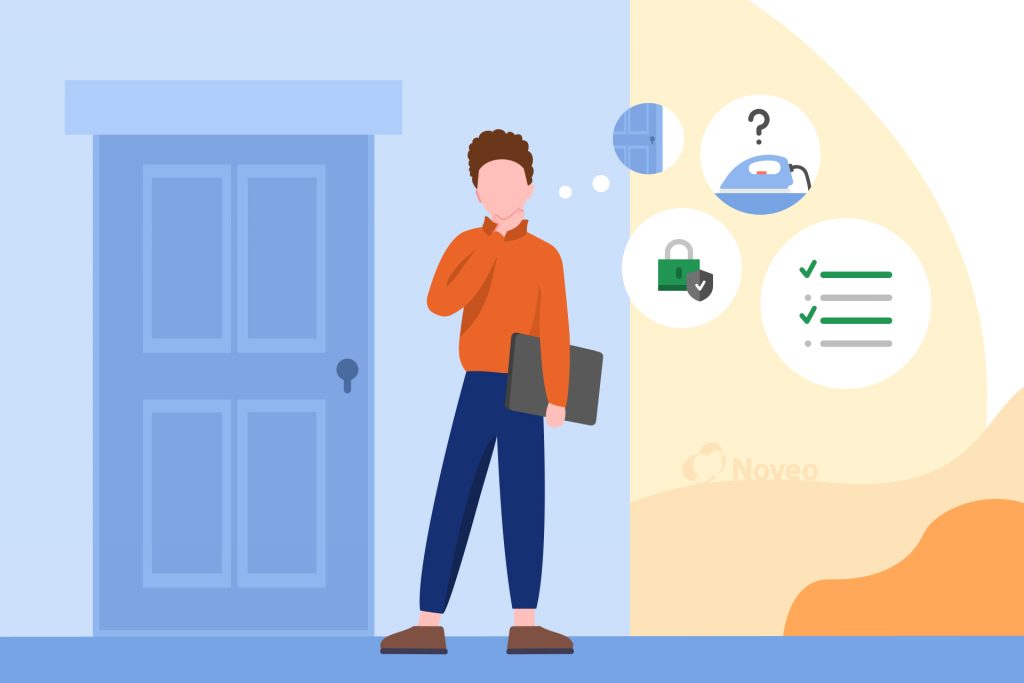 Sounds familiar? Of course it does. Pretty sure it's actually a universal law at this point: once you run through that mental checklist, you're bound to spiral down an anxiety-filled hole in one way or another. After all, no one likes feeling like they've forgotten to do something important; combine that with zero possibility to know whether your fears have finally materialised as a result of your negligence, and you've got yourself quite a perfect recipe for disaster. Achievement unlocked (pun intended).
Unfortunately, there's still no cure for common forgetfulness (we know, absolutely devastating), however, we should stay hopeful as not everything's lost – there might be just something amazing in the works to at least keep all our door locks (and sanity) in check. 
So, what is that miraculous invention we're talking about? Glad you asked, as you're in for a real treat. One of the projects the Noveo team's been working on for a while involves the development of an app that enables you to control every single lock you own – be it your house's front door, your coworking space, or anything in between. The only thing required here is that the lock itself is the one created by our customer, a start-up specialising in exactly that – ensuring your security.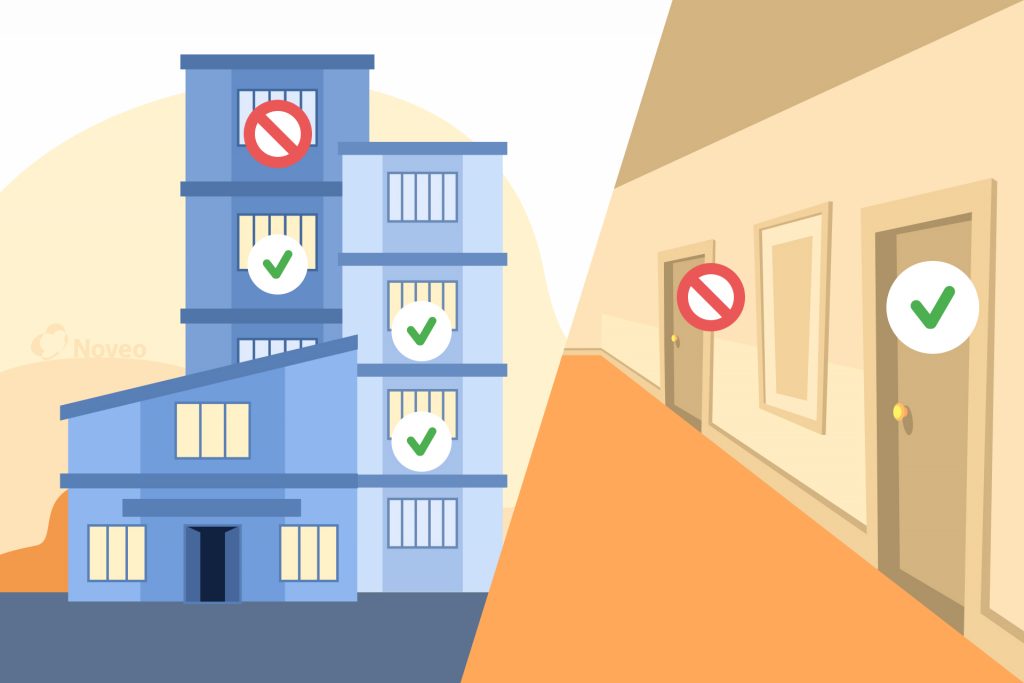 The French company designed a handy little lock that doesn't even require any keys (aka yet another thing you might accidentally misplace pretty much anywhere on the face of the earth); all you need to do is shine your smartphone flashlight on the mechanism, and you're done. The patented Li-Fi technology along with military-grade hardware and several levels of data encryption guarantee that no one will ever access whatever's behind that door unless you want them to – or, to put it simply, no more home invasions and/or uninvited guests (because, let's face it, both are equally terrifying). 
The lock can be installed in under five minutes with just a screwdriver – no drilling, cabling or wiring necessary. In case you own a business and decide to equip the whole office building, the task will take you less than a day – which is, once again, super convenient and not that time-consuming when compared to other solutions on the market. On top of that, our customer offers both API and SDK integration of their product's functionality with your existing workflow, making access management easier than it's ever been.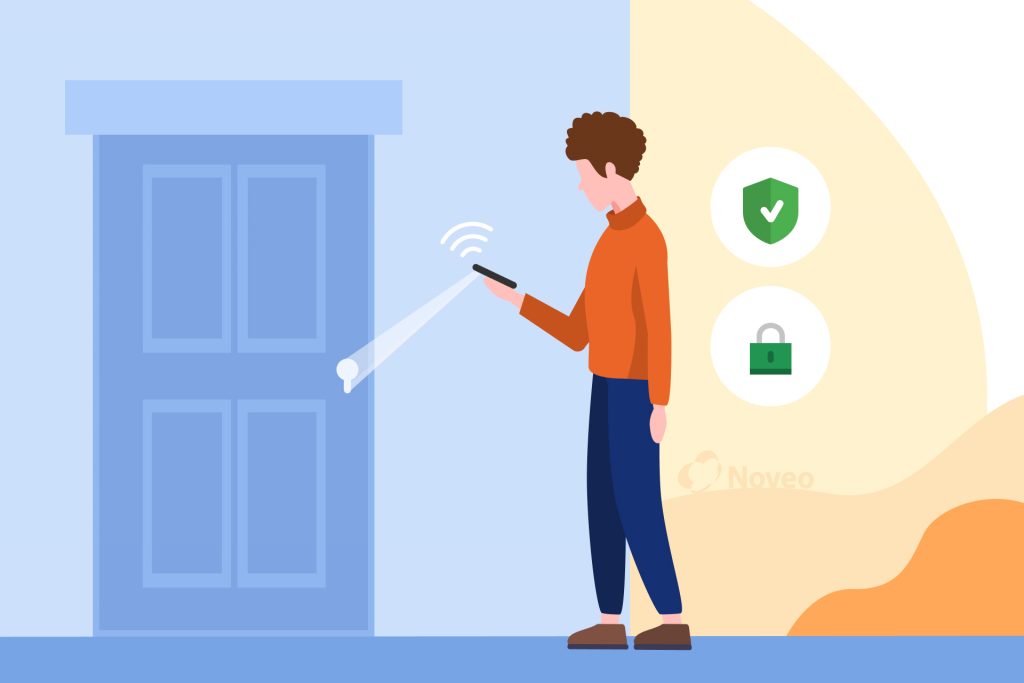 With all the locks now in place, it's time to finish setting up your IoT ecosystem – and this is where the application we're helping our customer to build comes into play. Having completed a simple sign-up process, you can move on to configuring access rights, inviting other users to join and establishing your own lock management hierarchy. There's also an option to create maps with multicoloured pins indicating the location of your locks – a particularly useful feature if you have to monitor hundreds of doors being closed and opened every minute across all the floors and, possibly, buildings of your organisation (not to mention your house, garage, and the like on the side). If the scale becomes too much, you can always switch over from the mobile version of the app to its web counterpart – also put together by the Noveo developers. As everything looks and feels the same, the shift between platforms is barely noticeable, making for the seamless experience.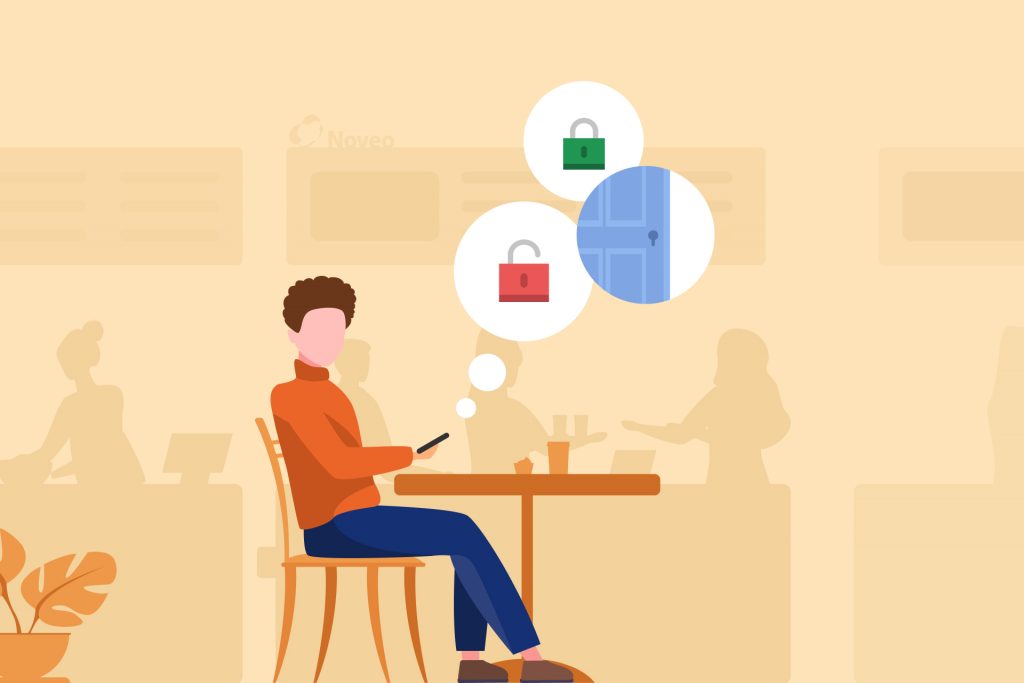 Speaking of user experience, what precisely does all that "door lock management" entail? Well, let's rewind a little bit. Like we've previously mentioned, the core functionality includes fine-tuning of access rights and permissions, as if you were actually sharing your IRL keys with friends, family and colleagues:
A repair person arrives in 20 minutes, and you're still out and about? Send them an invite via email or text and set a limit on how long you want them to use the key. 
Think it was a mistake to authorise that Jim guy? Revoke their access immediately at any time, lock the doors remotely on your own, without any hassle. 
Forgot to ask the neighbour to water your plants while you're on vacation? Stick a virtual post-it note to the door so they can see your message next time they come over to feed your pets. 
Not only that, but you can also live-monitor all your locks with the help of dynamic statuses, such as "Opened/Closed by Amy at 12:06", "Currently un/locked", or, a more ominous one, "Break-in in progress". 
However, the last kind of alert is highly unlikely to show up on your screen thanks to various security measures implemented at every stage of the development process: the lock's cylinder is protected from physical attacks with anti-picking, anti-bumping and anti-snapping elements; data is encrypted on multiple levels, using PBKDF2, AES-GCM keys, SHA512 hashing and CC EAL5+ certified components. When it comes to the mobile app, you're met with in-built biometric authentication, strong password requirements, as well as SSO ready to be launched in the nearest future. 
And last but not least, your phone flashlight is now synonymous with your keychain – all information needed to open the lock is transmitted via light instead of Wi-Fi, Bluetooth or radio frequencies that have become a technology of choice when creating most IoT systems. Due to the nature of light, the signal stays confined in a limited area (since it cannot travel through walls as opposed to other signal types) and takes milliseconds to reach the target – making it extremely difficult to hack and decrypt. Plus, the generated flash code is different every time it's used, so a session to crack it would last approximately a trillion years if not longer (ever met anyone with that much time on their hands? Yeah, didn't think so). 
As the development of the whole infrastructure is nearing its end (just like our blog post), we'd like to sincerely thank the customer's team for letting us be part of this big project and to wish them success with these final steps of bringing their idea to life. If anything, it's nothing but natural that the perfect candidate to fit the role of a guardian for our smart homes is an equally intelligent lock; adding light into the mix only makes it smarter.